It's Finish the Sentence Friday time and this week's sentence is "If you could hang out with any celebrity, it would be…"
ME!  I want to hang out with famous-me.  Obviously, I'm not famous.  But I'd like to be.
Not because I envy the Hollywood lifestyle or am excited about choosing hot young bodyguards to guard my body, but because I want to be a best-selling author.  I want to write a book that makes people laugh and cry and have life-altering revelations.  Instead, however, I have a bunch of unfinished novels and memoirs taking up space on my hard drive gathering cyber-dust.
Becoming a celebrity writer is obviously not going to happen any time soon.  But naming actual celebrities that I'd like to share a drink with is hard.
Sure, I appreciate looking at Alexander Skarsgard, but I'm not sure that I'd make a great effort to hang out with him.  What would be the point?  Being able to say that I did?  Now…if he were in a movie based on my best-selling book, that would be an entirely different matter.  See how this keeps coming back to ME?  Huh.  There's probably therapy for that.
I did have drinks with Peter Forsberg once.  I was at a bar in Denver with two friends of mine.  We were getting ready to leave when Peter (because I can call him that now) and a bunch of other Colorado Avalanche guys came over to see if they could have our table.  We changed our minds pretty quickly and said that while we were not leaving, they could join us.  They did.  We hung out for a couple of hours, I guess. 
One of my friends is Swedish, and gorgeous, and spoke to Peter in his native tongue.  My other friend is gorgeous and a total boy inside who was able to speak hockey.  I'm not quite sure what I brought to the table, but they let me stay.  It was cool and fun to tell people about the next day.  But you know what?  Celebrities are just people.  Some awesome and funny and brilliant, and others just plain stupid and screwed up.
I'm pretty happy just hanging out at home with Tucker and Robert.  Boring?  Maybe.  But it's my boring and nobody's ever hiding in the bushes across the street to snap a topless photo of me when I accidentally forget to close the blinds.  That part about not being famous is pretty nice.
I should say that I wouldn't pass up an opportunity to have Anthony Hopkins record my voice mail message.
Oh!  And I would like to really like to meet the person who invented Gummy Bears.
Give a dork a click? Please?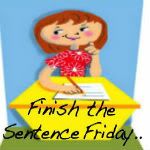 Finish the Sentence Friday is hosted by:
Dawn's Disaster (Twitter, Facebook)