Over the years, I've seen a few big things.
They include life-changing opportunities, mind-altering moments, and messes caused by my toddler son in the backseat of my car that rival those of even drunken college friends who used to drive around while hoarding discarded take-out containers and empty beer cans.
They include the disasters that only a two-year-old can create in a restaurant, forcing his parents to wrap their food to go, leave a disgustingly large tip, and then attempt to do a head-down walk of shame to the exit while wrestling a screaming small person who remains pissed that his ketchup and salt artwork project was left unfinished.
As parents, we see a lot of big messes and moments. We see breathtaking milestones, new experiences, and the occasional expensive couch ruined by a blue crayon (weep).
Tonight, here, on this blog, I think I saw a bigbigthing. It was big to me, anyway.
Somebody found Finding Ninee by Googling the term "Being a special needs mom sucks."
That feels Big. Heartbreakingly incorrect. Occasionally true.
It makes me mad. Sad. Madsad.
Somebody consulted the almighty Google looking for validation that being a special needs mom sucks.
Who the fuck Googles that?
Wait. Sorry.
Here's a letter to you, Special Needs Google Mama:
Dear Special Needs Google Mama who thinks it sucks,

Sometimes, being a special needs mom does suck.
Sometimes, we see our kids and their differences. Imagining their futures is enough to cause paralyzing panic, worry, and a wish for enough money to ensure that they'll be okay, forever and always, no matter what. And we know.
We know, that it's never enough.
Each of us grieves the children we'd imagined. We grieve the ones the thought we'd be raising.
Dreamed of. Can almost-maybe-almost see, sometimes.
Whatever place you were in today, I'm sorry.
I'm sorry that you were in pain, probably exhausted, most likely terrified, and alone, at the computer, searching.
Searching for validations that your feelings that "this sucks" are not without sisterhood.
Searching for somebody – anybody – to let you know that, whether you'd finally gotten your little one to sleep, or whether he was screaming in the background while banging his head on the floor –  would get it.
I get it.
Sometimes, it does suck.
Tuesday night, my son Tucker said that he wanted a book while we were eating. Or, well, I thought he said that he wanted a book. He wanted a fork. My little boy wanted a fork and I thought he said book. I felt awful and he felt frustrated, and for that moment, for those few confusing minutes while we were figuring out that he wanted a fork, and not a book, yeah…that sucked a little bit. That his brain knows what he wants to say and that he can't say it 95% of the time sucks. That he cannot watch me eat without gagging. That sucks. That brushing his teeth, or cutting his nails, causes him angst and tears – that sucks. That he doesn't like me to kiss him because my lips are "too hot" sucks.
But Special Needs Google Mama, being a special needs mom is also is the very complete utter and total opposite of suck.
We don't get to choose.
We just are.
We Do. We Love. Mostly, we love.
We worry and care for. We dry tears and mend with kisses.
Our cuddles have the magical powers of nobody else's.
All moms have those powers. Many dads as well.
So our kids have some delays. Challenges.
It's not fair. And yet, it is. It just is.
We protect, and we teach them to fly. We guide, and we teach.
We let them jump. We clap when they fly and we kiss and bandage when they fall.
We are everything. We matter. We are everything. We are everything that matters, and we are all that matters.
And that, my lonely friend out there, is The Big.
Please, try to stop looking at your child's needs, and start looking at him.
At the light. At the determination. At the resilience, and the love.
Do. Give. Love.
Give love to you, too, Special Needs Google Mama.
You deserve it and are worthy and you!!! Did. Not. Do. Anything. Wrong.
This is not your fault (unless it is, in which case that's a different letter).
So your kid's not perfect? None of them are. Sometimes, life sucks.
But our kids. Our kids.
My kid. Your kid.
They don't suck.
They matter, and they are important and perfect.
And, it's much harder for them than it is for us.
They're not what you expected?
Well.
Are you what you expected?
I'm not.
Our children are not yet who they will become.
And neither are you.
There's hope, Special Needs Google Mama.
And it's up to you to believe. All of us, special needs or not.
We're all hurdling through life, while hoping to fly.
We're here, flying with anticipation, fear, anxiety, and doubt.
Being a special needs mom doesn't suck. It's life. It's the ride. The hope. It's the journey.
So, Special Needs Google Mama, whatever happened today that made you want to search…I hope that you found out that you're not alone. I hope that you found that when it comes to the Bigbigthings, that, mostly, being a special needs mama is just the same as being a regular mama.
It's the love.
It's the journey.
It's the hope and it's just thislife.
Right here. Now.
Tonight. The anticipation. The open doors.
Tomorrow.
And it's pretty fucking fabulous.
Love,
Another Special Needs Mama
This has been a Finish the Sentence Friday post. The sentence is "I once saw a big…" Today's sentence was brought to you by Jen, of My Skewed View! Her extra cool prize is that tonight, she's a co-host, too! Go show her some love!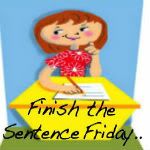 Hosts:
Janine: Janine's Confessions of a Mommyaholic
Kate: Can I get another bottle of whine?
Stephanie: Mommy, for Real
me: finding ninee