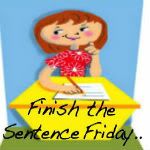 When it comes to reality TV, I just can't.  You see, it was ruined for me back in 2002.  Blame Fear Factor.  The one and only time I watched it, the contestants had to drink 100-year old eggnog.  As soon as the first person put that glass of congealed greenish grayish lumpy goo to her mouth and began to take a sip, I had to run to the sink and vomit.  For real.  In fact, I'm getting that "too much saliva" feeling in my mouth right now, just thinking about it (perhaps Tucker comes by his sensory issues naturally?).
After puking and turning off the TV, I got mad.  Because honestly?  The producers had to be lying.  Totally not "reality," friends.  There's no way that anybody has access to 100-year old eggnog.  I mean, do you think that in 1902, some struggling family decided to save a gallon of eggnog just in case the TV would get invented and then a bunch of skeezy Hollywood weirdos would decide that people would come drink the stuff 100 years later?  For money?  Sorry to burst your bubbles, Fear Factor fans, but I'm calling BS here.
Even if these people were able to legally obtain 100-year old eggnog, wouldn't those who consume it die from the bacteria and nasty little organisms that caused the once cream-colored super-tasty beverage to turn into a greenish gray cottage-cheese looking substance?   Not safe, I say.
So, yeah, when it comes to reality TV, I prefer to just say no.  Not because I'm a TV snob or anything.  It's because I'm a wimp.  Don't even get me started on the freaks that willingly eat bugs.  And eyeballs.  Because, really? Not enough money in the world, people.  Just not enough.
I tried to find the episode, but the one and only legit link I found was broken.  So instead, I've drawn you some helpful illustrations from one of the contestant's grandmother's perspective.
Here's where they're both super excited.  Look, you can tell it's 2002 because flip-phones were cool:
Granny asks whether her sweet granddaughter got the part she auditioned for on the Lifetime Special.  Because who doesn't love a TV station that you can keep on all day and see a young woman kidnapped by her secretly criminal boyfriend, a 50-year old teacher wrongly seduce a 17-year old student and women being attacked after posting used furniture for sale online?*
A few months go by and the show airs.  Popcorn is made, Granny is given the prize TV seat without a fuss and everybody prepares to be amazed.
They quickly realize that this show might actually be nothing at all like a Lifetime special.
And, like me, they are sickened and unable to continue watching.
Esther's granddaughter or not.
*In fairness, I have no idea what specials Lifetime now airs.  I haven't watched it in years and years.  I just remember Tori Spelling being on there a lot.  (Tori Spelling photo credit)
Finish the Sentence Friday is hosted by the following awesome bloggers.  Seriously, check them out.
Dawn's Disaster (Twitter, Facebook)
Next week's sentence is  "The most-memorable Valentine's Day I ever had was…"NOTE:  I was actually not going to participate in FTSF today as I felt like since I don't watch any reality TV, that I'd have nothing to say.  Thanks to Stephanie at
Mommy, For Real
for motivating me to tell you about why I don't have anything to say about reality television.
And, more begging (sorry).  Please help a gal out with a click on the button on your left, and vote for the total loser (moi) who is in like 90-something place right now.  Scroll WAY down, and give me an orange thumbs up.  Please?  This isn't one of the other dumb voting contests where you can just click the link.  This one, you have to click the pink button, find Finding Ninee and click "VOTE" there. Promise you this will end on Feb. 13.