…I removed all of my clothes, shoes, purses and scarves from my closet.  I then vacuumed, dusted each individual hanger and shelf, donated the pieces that I either haven't worn in two years or will never again fit into, and then polished my polishable shoes.  Because all keepables were already piled on the bed, I figured that while restocking my closet, I should go ahead and organize.  What.  I told you I was bored out of my mind.  To organize, I found that the best method for me is to have each item sorted.  First by item type, then by size and finally by color.   This method saves me valuable time each morning browsing though my clothes and accessories while trying to decide how to put the perfect outfit together.
Impressive right?
Yeah, and it'd be even more impressive if it weren't a big fat lie.  As in complete utter bullshit.  I have never been this bored.  Ever.  I enter my closet while dust bunnies fly to the corners and look at business clothes that have gone unworn since Tucker was born and try to throw something together that will fit my new bigger boobs and sexy backfat every morning.  And every morning, I think to myself that I really should clean the dusty bitch out.  But.  Not that bored.  And I probably never will be.
With that said, of course, I'd love for somebody else to come tackle the project for me.  Wanna make a quick $100?  Come over this weekend, do the above and it's yours.  But if you touch my "Shut up and jump!" skydiving sweatshirt from the 90's that consists of more dust than it does cotton fibers?  Get ready for me to release a can of whoop-ass on you.  Oh and leave those much-too-small ugly brides maid dresses stuck in a bin under the bed alone, too.  One never knows when she'll need a dress and might need to quickly dye, cut and alter one that is so out of fashion that it's surely just about back in.  Fine.  $200.
Any takers?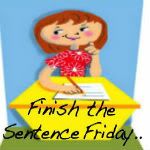 Finish the Sentence Friday is hosted by:
Dawn's Disaster (Twitter, Facebook)