Pet fish are my pet peeve. The following is a quick glimpse into my untrue "oh but they're so much easier than puppies" experience with owning them over the past three years or so. I'm not talking the cool, complicated, awesome stuff of actually having a shark or some stingrays swimming in a tank built into your living room wall. I asked our local pet store about that, but found out that pet sharks and stingrays require a salt-water tank, and a lot more maintenance and funding than I was willing to commit to.
The tank I'm talking about today involves a pet-store guarantee of "these are the most hearty and easiest fish to care for ever" kind. Here is my experience.
1. Have a friend give you a free 10-gallon tank, after upgrading her own and spewing how relaxing fish are for the family to watch. I think she even said that they reduce blood pressure, and I was willing to try it, even though I knew that my unfulfilled dream of watching a shark or some stingrays swim in a tank built into my wall would be much better.
2. Clean the free tank, set it up, let it marinate for a few days because you're supposed to, and then go to the pet store with your little boy, unable to go back on your promise that he'd come home with some new cool fish friends.  Disregard the fact that in order to actually bring them home, you have to pay $130 for a filter, air bubble maker, heater, anti-chlorine liquid, food, some PH balancer stuff, some plants, some rocks/glass beads, and whatever else I'm forgetting that was included in the purchase.
3. Enjoy the tank for five minutes or three months until green stuff starts growing on the glass and on the rocks.
4. Assure your little boy that you've got this. Attempt to clean the tank with one of those sucker-cleaning things, while not swearing over the fact that there's probably more water on your floor than is in the tank. Realize that you're not going to make this work, and pre-treat a bunch of water knowing that tomorrow, you'll have to empty the entire thing.
5. Realize that 10 gallons is a lot more than you might think that it is. Take a kazillion trips back and forth from the tank to the sink to get all of the water out of the tank. Say as many bad words as you need to. I think it took me about 122 of them.
6. Tell your little boy that taking the fish out of their bowl and saying "Look, Mommy!" is not actually helpful, while admiring his mad fine motor skills and courage because touching fish is gross.  Figure out that the many pitchers and bowls you'd filled the night before cleaning the tank are in no way enough to fill it back up. Sit on your ass and stare at the tank for a while, wondering whether matching the temperature exactly truly matters.
7. Prepare to become a bad person who does not appreciate that fish may have souls, and decide that the tap water you drink every day is also good enough for them. Figure out the temperature using your hand. After all, your hand can tell in two seconds whether your kid has a fever.
8. Do this over and over and over again for 18 months until the fish start dying. Be happy that they're dying because not only is your little boy less than thrilled over the fact that he has SIX pets, but you realize that pet fish suck. They are not fun, they are not snuggly, and cleaning the tank is a huge pain. Decide that when the last one dies off, that you'll give this free tank to a new, less seasoned family. You know – sharing brings good karma.
9. When they all die but one tiny little dude, decide that your kid DOES actually care whether he has pet fish, and drive to the pet store while he's in school to surprise him, wearing hoodie and sunglasses, in case the husband is on lunch break and can read your mind or your motives.  Pay $90 for new filters, 10 new fish friends, and a bunch of other fish-tank related crap.
10. Repeat all of the above for a bazillion years and admire the clean tank whenever it's actually clean which is about once every four months for a couple of days. Add Bob, the placastomus to help your cleaning efforts. Call him ugly every day and feel badly when he dies because he spent his whole life eating fish poop and having you tell him that he's ugly.
Then, one day, realize that your sparkly new tank is full of fish swimming around with white dots on them. Go pay more money for meds that you're too late with, have them all die, and take the empty tank to the basement while your kid is at school.
In unrelated news, my little boy has been asking for a puppy.
—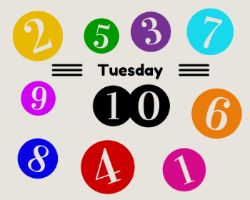 I'm linking up with Lisa and Rabia for Tuesday Ten today – it's Pet Peeves week. Also, if you're thinking that fish are actually cooler than I think they are, please IM me. I'm more than happy to give you our tank. And all that other stuff I had to buy that's now sitting on my basement couch…