What is your hidden talent?
I'd be willing to bet that the majority of women reading this had a first thought along the lines of "I do not have one." I'd also be willing to bet that men reading the opening sentence had a prideful moment, knowing that their abilities to fart on demand, excel at a career, or believe that some "unique" skill in the bedroom elevates them from other men.
Which makes me think. Why is it that women, in general, are so dismissive of our talents? Why is it that even when resolved to not give into the self-flagellation that we're so damn good at, we continue to doubt ourselves?
While I am not able to fart on demand, I can burp on purpose.
I'm good at my job.
And I'm The VeryBest at Tuckering Tucker.
It's too easy for too many of us to diminish our talents with a subheading. The Headline, I suppose, reads something like this:
Even while proud of something, we know that we could have, and should have Done More.
Been More.
Why is that, and what can we do to change it? Why is it so easy to take pride in something that we do, and immediately dismiss it, "knowing" that somebody else is better? That we are the ones in the wrong? Why? Is it genetic?
I know men who do this as well. But women seem to do it more. I know men who are too proud of themselves for doing not much. And others that do more than the world will ever know, and never speak of it.
It's hard for women to admit that we are talented and amazing. It's even harder for us to believe that we are.
So, although it goes against my very insecure and doubtful nature, I'm going to remind myself, and maybe possibly you, too, that all of us, with our myriad of imperfections and ugliness and unworthiness are actually good enough. That, when it comes to the flawed humanity of humanness, good enough just is.
We are all good enough at being ourselves.
We're good enough friends, good enough parents, and good enough at our jobs. We're good enough at managing our time (meh), our lives, and our spirits.
Don't you think, that those to which we compare ourselves to, also feel the same insecurities, and wonderings? They, too, feel the same "others are better than I am" thoughs.
Could we do more? Yes. Do we need to? Yes.
Should we get on our knees and begin more self-hate because, once again, we flunked Being Perfect?
I say no. I say, why not look at why it is that we're neverever enough, and look at the ways in which we are. Even when they're silly, dumb, unimportant, and insignificant. Even when they will never garner us fame, or a paycheck.
I say, let's celebrate the meness of being me. The usness of being us.
Obviously, while typing my original response to today's sentence, I had lofty goals of delving into the personalities of men and women, of reminding you that semi-overweight men still see themselves as football players while semi-overweight women see themselves as failures lacking willpower, but that's been done. And…well, I started thinking about Hidden Talents. Turns out, there are a few of them that I'm proud of and I'd like to share them with you here.
I should say that I had originally planned more for this post. However, as always (!! a hidden talent???), I waited until the last minute.
Tonight, though, my last minutenes has a great excuse. I spent a while with Tucker practicing how to say his name. And made progress. HUGE progress. More on that later but I'm like, all giddy and bigstuff right now. Which means? I've got a hidden talent, and while I don't always know what it is, it is mine. It is me.
Tonight's Finish the Sentence Friday post was "One of my hidden talents is…"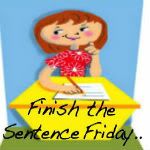 Your Finish the Sentence Friday Hosts:
Janine: Janine's Confessions of a Mommyaholic
Kate: Can I get another bottle of whine?
Stephanie: Mommy, for Real
me: finding ninee