If I had a million dollars, there are a lot of things I would do. Maybe I would be overly generous with it, get more frequent massages, a magical facial to make me look younger and hot, and buy a house that I like more with a cooler, larger, more interesting yard.
But right now, if I found a million dollars in the laundry, I think that I'd build the best special needs school in the world. As many of you know, we've been really lucky with Tucker receiving the services he needs from our school district. Since he was three years old, he's been in PAC (Preschool Autism Classroom) with incredible teachers who really love him. They use ABA (Applied Behavior Analysis) to mold his speech and behavior. In a nutshell, ABA is recognizing an antecedent to a particular behavior and then reacting. When a behavior is desired, like when a word is used properly, there is a reward. When the behavior is not desired, like when Tucker gets upset and lashes out rather than using his words, there's a consequence.
It's not really my intent to explain ABA therapy to you other than to say that it has worked wonders for Tucker. Just 15 months ago, his words for both water and helicopter were pronounced "ah." Today, he says, "Can I hap wa-tow pwease?" and "hew-i-cop-tow." He's more interested in playing with other kids. He is controlling his anxiety and annoyance better and more often.
Now, (and I should say that there is a gigantic amount of BS that I am not going to go into here because I'm still processing it and at least one of his teachers reads this blog sometimes maybe) his teachers feel like Tucker may be ready to be moved to a non-categorical preschool classroom in which the kids may or may not have autism, do have learning delays, but, overall, have more age-appropriate social skills.
Currently, he's spending his mornings in PAC and his afternoons in non-cat. The teachers want to discuss cutting out PAC in the mornings, as the two are different programs. On one hand, this is thrilling.
It'll be a good chance to figure out where he will best succeed in kindergarten next year.
It will give him closer-to-typical social and language models.
Each morning before school, he could do speech and OT therapy or go swimming for sensory input.
It's less restrictive and more like The Real World.
The totally anxiety-producing OMG my little boy needs as many hours as possible and he needs PAC because PAC is working, and he needs to get closer to speaking intelligibly and to knowing how to play part is:
It would be 10.25 hours of less school each week.
There's no ABA.
We don't know if he's been successful each afternoon in non-cat because of the support he's getting in PAC.
They are not correcting mispronounced words in the same way as they do in PAC (although I hope to change that if we drop PAC).
There's no way that I can reproduce 10.25 hours of school each week until September.
If you skimmed some of that to get here, what I'm saying is that the stress and worry over doing the Perfectly Right Thing for my sweet little boy makes me wish that there were a really awesome solution that would offer fully individualized and yet socially-based schooling combined with therapy and life skills for all kids (and not cost $37,000/year like a certain school near here does).
I'm sofuckingscared. 
Children's language development happens rightnow, for kids who are Tucker's age. Every single hour, day, week, month and second that goes by that he misses learning to say "small" rather than "moffs" or "music" rather than "mu-isk" is terrifying.
Losing those hours is terrifying. With all of me, I know that one day, my son will look around and realize that he doesn't speak the same way that his peers do.
And that he will possibly feel badly about himself. That he might think that he's dumb. That he will fall into a sad place and wonder what's wrong with him.
More than anything else in the world, I do not want him to feel that way. Which means that it's up to me, now, to fight for the verybest solution for him when it comes to a balance between school and private therapy. Even if that means spending $37,000/year.
Honestly, I'm not sure what to do. I simply do not know what is better – continuing both PAC and non-cat preschool, which may not be an actual option, dropping PAC and being reallyreallyreally good at structuring his week to maximize one-on-one therapy and some sensory-rich activities, or spending a ton of money on a school that may not be better than what he would have if I didn't spend the ton of money.
While I will use the rest of my days on this planet to help my son and the rest of the world get that he's perfect just as he is rightnow while he is "moffs," and later when he's bigger, I'd be lying if I said that I wasn't worried about making the wrong choice.
I'd be lying if I said that I even completely understand whether this choice matters much in the long run.
I'd be lying if I said that I didn't want the most perfect school for Tucker right now, right here.
Maybe perfect enough exists. Maybe it's a combination of me, therapy, a sitter, and non-cat. Maybe it's not. Maybe, it's something I haven't even thought of yet.
Maybe I'm just a worried mom, and everything will be as good and as perfect, messy, crazy, lovely, fabulous, and messed up, amazing, heart-stopping wonderful and utterly terrifying as it all will be anyway, regardless of my choice. And please tell me that I am not alone in feeling inadequate in making these decisions that will affect the rest of my innocent little dude's rest-of-all-eternityforever? 
Regardless, if I had a million dollars, I'd build the best special needs school in the world. There would be scholarships, a chance for typical kids to attend for peer modeling, one-on-one therapy, and a daily program just long enough to meet each child's needs. 
Oh, and the teachers would get paid more, too. Also, the bad ones like Mrs. Haney who had me in sixth grade and was mean and icky and obviously hated all children and everything else would be unwelcome. I could name the best special needs school in the world The Our Land School. I'd be queen, of course. But I'd be really nice about being queen, and not bossy or snooty at all.
This has been a Finish the Sentence Friday post. The sentence is "If I had a million dollars, I…" Today's sentence was brought to you by Lisa, of The Golden Spoons! Her extra cool prize is that tonight, she's a co-host, too! Go show her some love!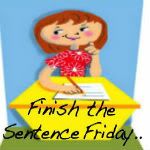 Hosts:
Janine: Janine's Confessions of a Mommyaholic
Kate: Can I get another bottle of whine?
Stephanie: Mommy, for Real
me: finding ninee
What about you? What would you do with a million dollars?