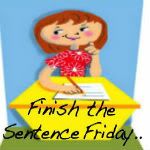 Hi, friends!  It's finish the sentence Friday time and this week's sentence is "Speaking from experience, I'm going to give you a little advice on…"
Life.  I'm going to give you some advice on life, because I'm old.
1. Wear sunscreen.  Seriously.  If I could trade every tan I've ever had for less freckles, wrinkles and discolored skin?  The tans weren't worth it.  I promise.
2. Take care of your teeth.  I've spent more money on one of my molars than my first two cars.  Combined.
Ok, that's it!  That's all I've got.  44 years and all I can tell you is to wear sunscreen and take care of your teeth.
You're welcome.
Wait, you want more?  Life-sucking vampires!  (not really because you guys are awesome)
I'm going to give you a little advice on keeping track of your drunk friends at a work party. Use the buddy system.
Here's why.  I won't bore you with the details but picture 150 drunk work friends in New Orleans.  I know, right?  Lots of cool stuff happens in New Orleans!
Huge par-tay.  Drinks.  A balcony.  When I looked up and saw this:
So off we went.  Me, Pete, and Mark.*
It was not, in fact, a live sex show but a solitary saggy old stripper swaying to Bon Jovi.
Luckily, she had pretty, sparkly nipple rings, because otherwise, b-o-r-i-n-g.  To prove that I wasn't totally freaked out and that I'm actually cool rather than just pretending to be, we sat down and ordered a drink.
Finally, it was time to go.  And Pete was gone.
We looked for him, which meant wandering around the "club" finding a nasty room in the back that had only a couch in it (shudder), called him, texted him and eventually said fuck it, I'm tired assumed he must have gone back to the hotel.
I was worried when Pete wasn't at the meeting the next morning.  He 
showed up around noon and told us what had happened.  While I was peacefully slumbering, Pete was having an adventure.
Apparently, he was drunk enough to think it'd be easy to find food at 2am and sought out to find some, thinking the magical hotdog man would be waiting just outside and that he'd be back in just a minute. He was wrong.  This is his story.
He wandered around for a bit, searching for the elusive street vendors and decided he was tired, and that he could take a little rest.  And so he sat down.  On somebody's doorstep.
He was probably pretty comfortable.  Until he woke up, at least.  The woman who owned said doorstep was not impressed and beat him with a broom until he shuffled on his way.
He apologized, got up, and got lost.  Luckily, a different woman drove by and asked if he wanted a ride.  He gratefully accepted and thought to himself "what kind folks live in New Orleans, willing to help out a lost tourist at 4am."
He gratefully accepted a ride from this kind stranger.  
There was a little bit of confusion.  
Eventually, they got on the same page and, using teamwork, decided that it would be best if he got out of the car.
Because he still couldn't find the hotel, he decided to rest on a park bench until the sun came out and he could find a taxi.
It wasn't until the next morning that he realized he was already at the hotel.  In the courtyard.  Which is why my advice is to use the buddy system when drinking in New Orleans with a bunch of coworkers who will leave you behind in order to get some rest.  Using the buddy system could end up saving your dignity.  Just ask Pete.
*Pete and Mark are not their real names.  I changed them to protect Pete's stupidity innocence.
Note:  Robert walked in the room when I was almost done drawing my sweet saggy stripper friend and didn't even ask.  I think he's getting immune to me.
Finish the Sentence Friday is hosted by:
Dawn's Disaster (Twitter, Facebook)
Next week's sentence is 
 "You want to know what I think of social media? I think…"